02 - Creating a custom thread catalog for the hole feature
Statement of Work
To add thread standards for the British Association BA Normal and Close thread standards.
Setting the directory for the custom thread location
Custom thread standards are referenced by making a custom standard directory. The standards directory is declared to CATIA by setting the CATCollectionStandard environment variable.
The threads standards are on of a number of standards that can reside in the CATCollectionStandard directory. The threads standards are organinzed in a subdirectory that much be name thread
Create a directory to hold the custom standards.
Create a subdirectory called threads and copy the attached xml files.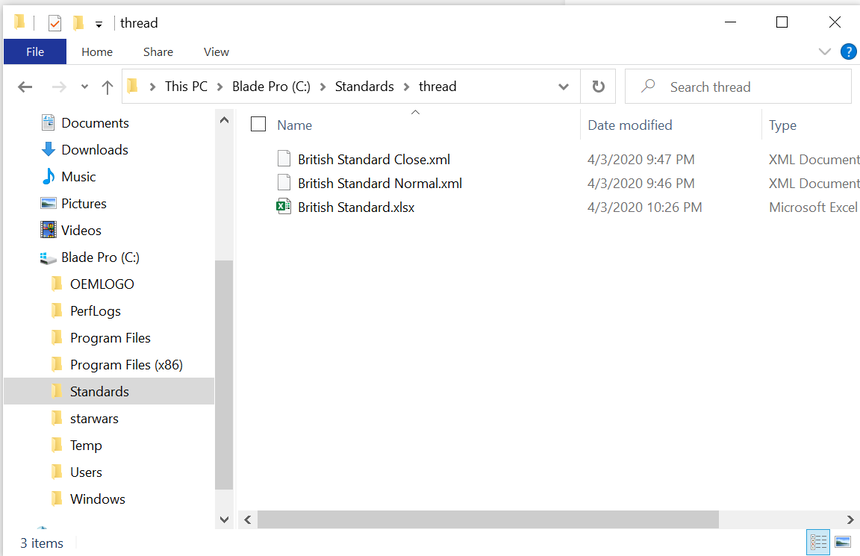 Start the Systems Properties variable editor...
Select the Environment Variables command button...
Create a new variable called CATCollectionStandard and set its value to the directory that contains the thread subdirectory with the custom thread standard definition xml files.
Issues
Does not auto find the correct standard when using inch units

The two default standards have underbars in the filenames but are displayed with spaces?

The CATCollectionStandard variable to define user directory does not work

NominalDiameter and ThreadDiameter are backwards in XML file?

XML in documentation does not match XML in CATIA resource directory

Can we put extract tags in the XML file for values that we need for our UDF?

Thread catalogs are cached on holes after first use and cannot be updated without deleting ALL the holes!
Notes
copy files into C:\Program Files\Dassault Systemes\B422_Cloud\win_b64\resources\standard\thread as a workaround.